{"id":6831868838080,"title":"Triangular Sink Net Filter","handle":"triangular-sink-net-filter","description":"\u003cul\u003e\n\u003cli\u003e\u003cspan\u003e🔥🔥\u003cstrong\u003e99.8% of customers are buying 2 pcs or more.\u003c\/strong\u003e\u003c\/span\u003e\u003c\/li\u003e\n\u003c\/ul\u003e\n\u003cp data-mce-fragment=\"1\"\u003e\u003cspan\u003e\u003cstrong\u003eA Must Have Gadget For Kitchen\u003c\/strong\u003e\u003cimg src=\"https:\/\/img.staticdj.com\/4ffdecd6e665809832cc40e83eacbac4.gif\" sizes=\"300px\" width=\"300\" alt=\"\" data-src=\"https:\/\/img.staticdj.com\/4ffdecd6e665809832cc40e83eacbac4.gif\" data-sizes=\"auto\" class=\"sep-lazyload lazyautosizes lazyloaded\" style=\"display: block; margin-left: auto; margin-right: auto;\"\u003e\u003c\/span\u003e\u003cspan\u003e\u003c\/span\u003e\u003c\/p\u003e\n\u003cul\u003e\n\u003cli\u003e\n\u003cspan\u003e\u003cstrong\u003eSmart\u003c\/strong\u003e\u003c\/span\u003e\u003cspan\u003e\u003cstrong\u003e Design:\u003c\/strong\u003e The triangle shape design which fully makes use of the space of the sink corner and won't take up additional space inside the sink.\u003c\/span\u003e\n\u003c\/li\u003e\n\u003cli\u003e\u003cspan\u003e\u003cstrong\u003eElastic and Flexible:\u003c\/strong\u003e Drain groove design, can let the water run off and make sponge and scrubber dry. These mesh bags are elastic and flexible, easy to connect to the 7-point holder and maintain stability.\u003c\/span\u003e\u003c\/li\u003e\n\u003cli\u003e\u003cspan\u003e\u003cstrong\u003eExcellent Function: \u003c\/strong\u003eThe fine mesh captures all small food particles that would normally slide through the filter. Effectively prevent hair, paper scraps, food scraps, fabric, and any other garbage into the drain.\u003c\/span\u003e\u003c\/li\u003e\n\u003c\/ul\u003e\n\u003cdiv\u003e\u003cspan\u003e\u003cstrong\u003eEconomical \u0026amp; Practical: \u003c\/strong\u003eFilter out the kitchen\/restaurant leftovers with the purpose of protecting the kitchen drainage, not to block the drainpipe, and it helps to save space and keep the kitchen clean.\u003cimg srcset=\"https:\/\/img.staticdj.com\/211c020870c3bd99dc68f07a3c308ec1_720.jpeg 48w, https:\/\/img.staticdj.com\/211c020870c3bd99dc68f07a3c308ec1_720.jpeg 180w, https:\/\/img.staticdj.com\/211c020870c3bd99dc68f07a3c308ec1_720.jpeg 360w, https:\/\/img.staticdj.com\/211c020870c3bd99dc68f07a3c308ec1_720.jpeg 540w, https:\/\/img.staticdj.com\/211c020870c3bd99dc68f07a3c308ec1_720.jpeg 720w, https:\/\/img.staticdj.com\/211c020870c3bd99dc68f07a3c308ec1_720.jpeg 900w, https:\/\/img.staticdj.com\/211c020870c3bd99dc68f07a3c308ec1_720.jpeg 1024w, https:\/\/img.staticdj.com\/211c020870c3bd99dc68f07a3c308ec1_720.jpeg 1280w, https:\/\/img.staticdj.com\/211c020870c3bd99dc68f07a3c308ec1_720.jpeg 1366w, https:\/\/img.staticdj.com\/211c020870c3bd99dc68f07a3c308ec1_720.jpeg 1440w, https:\/\/img.staticdj.com\/211c020870c3bd99dc68f07a3c308ec1_720.jpeg 1536w, https:\/\/img.staticdj.com\/211c020870c3bd99dc68f07a3c308ec1_720.jpeg 1600w, https:\/\/img.staticdj.com\/211c020870c3bd99dc68f07a3c308ec1_720.jpeg 1920w, https:\/\/img.staticdj.com\/211c020870c3bd99dc68f07a3c308ec1_720.jpeg 2056w, https:\/\/img.staticdj.com\/211c020870c3bd99dc68f07a3c308ec1_720.jpeg 2560w, https:\/\/img.staticdj.com\/211c020870c3bd99dc68f07a3c308ec1_720.jpeg 2732w, https:\/\/img.staticdj.com\/211c020870c3bd99dc68f07a3c308ec1_720.jpeg 2880w, https:\/\/img.staticdj.com\/211c020870c3bd99dc68f07a3c308ec1_720.jpeg 3072w, https:\/\/img.staticdj.com\/211c020870c3bd99dc68f07a3c308ec1_720.jpeg 3200w, https:\/\/img.staticdj.com\/211c020870c3bd99dc68f07a3c308ec1_720.jpeg 3840w\" sizes=\"400px\" data-srcset=\"https:\/\/img.staticdj.com\/211c020870c3bd99dc68f07a3c308ec1_720.jpeg 48w, https:\/\/img.staticdj.com\/211c020870c3bd99dc68f07a3c308ec1_720.jpeg 180w, https:\/\/img.staticdj.com\/211c020870c3bd99dc68f07a3c308ec1_720.jpeg 360w, https:\/\/img.staticdj.com\/211c020870c3bd99dc68f07a3c308ec1_720.jpeg 540w, https:\/\/img.staticdj.com\/211c020870c3bd99dc68f07a3c308ec1_720.jpeg 720w, https:\/\/img.staticdj.com\/211c020870c3bd99dc68f07a3c308ec1_720.jpeg 900w, https:\/\/img.staticdj.com\/211c020870c3bd99dc68f07a3c308ec1_720.jpeg 1024w, https:\/\/img.staticdj.com\/211c020870c3bd99dc68f07a3c308ec1_720.jpeg 1280w, https:\/\/img.staticdj.com\/211c020870c3bd99dc68f07a3c308ec1_720.jpeg 1366w, https:\/\/img.staticdj.com\/211c020870c3bd99dc68f07a3c308ec1_720.jpeg 1440w, https:\/\/img.staticdj.com\/211c020870c3bd99dc68f07a3c308ec1_720.jpeg 1536w, https:\/\/img.staticdj.com\/211c020870c3bd99dc68f07a3c308ec1_720.jpeg 1600w, https:\/\/img.staticdj.com\/211c020870c3bd99dc68f07a3c308ec1_720.jpeg 1920w, https:\/\/img.staticdj.com\/211c020870c3bd99dc68f07a3c308ec1_720.jpeg 2056w, https:\/\/img.staticdj.com\/211c020870c3bd99dc68f07a3c308ec1_720.jpeg 2560w, https:\/\/img.staticdj.com\/211c020870c3bd99dc68f07a3c308ec1_720.jpeg 2732w, https:\/\/img.staticdj.com\/211c020870c3bd99dc68f07a3c308ec1_720.jpeg 2880w, https:\/\/img.staticdj.com\/211c020870c3bd99dc68f07a3c308ec1_720.jpeg 3072w, https:\/\/img.staticdj.com\/211c020870c3bd99dc68f07a3c308ec1_720.jpeg 3200w, https:\/\/img.staticdj.com\/211c020870c3bd99dc68f07a3c308ec1_720.jpeg 3840w\" data-aspect-ratio=\"1.00\" height=\"400\" width=\"400\" alt=\"\" data-sizes=\"auto\" class=\"sep-lazyload lazyautosizes lazyloaded\" style=\"display: block; margin-left: auto; margin-right: auto;\"\u003e\u003cimg srcset=\"https:\/\/img.staticdj.com\/dcd7725e5576bf49927718b419cc9547_720.jpeg 48w, https:\/\/img.staticdj.com\/dcd7725e5576bf49927718b419cc9547_720.jpeg 180w, https:\/\/img.staticdj.com\/dcd7725e5576bf49927718b419cc9547_720.jpeg 360w, https:\/\/img.staticdj.com\/dcd7725e5576bf49927718b419cc9547_720.jpeg 540w, https:\/\/img.staticdj.com\/dcd7725e5576bf49927718b419cc9547_720.jpeg 720w, https:\/\/img.staticdj.com\/dcd7725e5576bf49927718b419cc9547_720.jpeg 900w, https:\/\/img.staticdj.com\/dcd7725e5576bf49927718b419cc9547_720.jpeg 1024w, https:\/\/img.staticdj.com\/dcd7725e5576bf49927718b419cc9547_720.jpeg 1280w, https:\/\/img.staticdj.com\/dcd7725e5576bf49927718b419cc9547_720.jpeg 1366w, https:\/\/img.staticdj.com\/dcd7725e5576bf49927718b419cc9547_720.jpeg 1440w, https:\/\/img.staticdj.com\/dcd7725e5576bf49927718b419cc9547_720.jpeg 1536w, https:\/\/img.staticdj.com\/dcd7725e5576bf49927718b419cc9547_720.jpeg 1600w, https:\/\/img.staticdj.com\/dcd7725e5576bf49927718b419cc9547_720.jpeg 1920w, https:\/\/img.staticdj.com\/dcd7725e5576bf49927718b419cc9547_720.jpeg 2056w, https:\/\/img.staticdj.com\/dcd7725e5576bf49927718b419cc9547_720.jpeg 2560w, https:\/\/img.staticdj.com\/dcd7725e5576bf49927718b419cc9547_720.jpeg 2732w, https:\/\/img.staticdj.com\/dcd7725e5576bf49927718b419cc9547_720.jpeg 2880w, https:\/\/img.staticdj.com\/dcd7725e5576bf49927718b419cc9547_720.jpeg 3072w, https:\/\/img.staticdj.com\/dcd7725e5576bf49927718b419cc9547_720.jpeg 3200w, https:\/\/img.staticdj.com\/dcd7725e5576bf49927718b419cc9547_720.jpeg 3840w\" sizes=\"400px\" data-srcset=\"https:\/\/img.staticdj.com\/dcd7725e5576bf49927718b419cc9547_720.jpeg 48w, https:\/\/img.staticdj.com\/dcd7725e5576bf49927718b419cc9547_720.jpeg 180w, https:\/\/img.staticdj.com\/dcd7725e5576bf49927718b419cc9547_720.jpeg 360w, https:\/\/img.staticdj.com\/dcd7725e5576bf49927718b419cc9547_720.jpeg 540w, https:\/\/img.staticdj.com\/dcd7725e5576bf49927718b419cc9547_720.jpeg 720w, https:\/\/img.staticdj.com\/dcd7725e5576bf49927718b419cc9547_720.jpeg 900w, https:\/\/img.staticdj.com\/dcd7725e5576bf49927718b419cc9547_720.jpeg 1024w, https:\/\/img.staticdj.com\/dcd7725e5576bf49927718b419cc9547_720.jpeg 1280w, https:\/\/img.staticdj.com\/dcd7725e5576bf49927718b419cc9547_720.jpeg 1366w, https:\/\/img.staticdj.com\/dcd7725e5576bf49927718b419cc9547_720.jpeg 1440w, https:\/\/img.staticdj.com\/dcd7725e5576bf49927718b419cc9547_720.jpeg 1536w, https:\/\/img.staticdj.com\/dcd7725e5576bf49927718b419cc9547_720.jpeg 1600w, https:\/\/img.staticdj.com\/dcd7725e5576bf49927718b419cc9547_720.jpeg 1920w, https:\/\/img.staticdj.com\/dcd7725e5576bf49927718b419cc9547_720.jpeg 2056w, https:\/\/img.staticdj.com\/dcd7725e5576bf49927718b419cc9547_720.jpeg 2560w, https:\/\/img.staticdj.com\/dcd7725e5576bf49927718b419cc9547_720.jpeg 2732w, https:\/\/img.staticdj.com\/dcd7725e5576bf49927718b419cc9547_720.jpeg 2880w, https:\/\/img.staticdj.com\/dcd7725e5576bf49927718b419cc9547_720.jpeg 3072w, https:\/\/img.staticdj.com\/dcd7725e5576bf49927718b419cc9547_720.jpeg 3200w, https:\/\/img.staticdj.com\/dcd7725e5576bf49927718b419cc9547_720.jpeg 3840w\" data-aspect-ratio=\"1.00\" height=\"400\" width=\"400\" alt=\"\" data-sizes=\"auto\" class=\"sep-lazyload lazyautosizes lazyloaded\" style=\"display: block; margin-left: auto; margin-right: auto;\"\u003e\u003c\/span\u003e\u003c\/div\u003e\n\u003cp\u003e\u003cspan\u003e\u003cstrong\u003eHOW TO INSTALL\u003c\/strong\u003e\u003c\/span\u003e\u003c\/p\u003e\n\u003col\u003e\n\u003cli\u003e\n\u003cp\u003e\u003cem\u003e\u003cspan\u003eUse scissors to cut off part of the nano glue.\u003c\/span\u003e\u003c\/em\u003e\u003c\/p\u003e\n\u003c\/li\u003e\n\u003cli\u003e\n\u003cp\u003e\u003cem\u003e\u003cspan\u003ePaste the nano tape on both sides of the back of the drain rack.\u003c\/span\u003e\u003c\/em\u003e\u003c\/p\u003e\n\u003c\/li\u003e\n\u003cli\u003e\n\u003cp class=\"a-size-small\"\u003e\u003cem\u003e\u003cspan\u003e\u003cspan class=\"a-text-bold\"\u003e\u003cspan class=\"a-text-italic\"\u003eWipe the edge of the sink dry \u003c\/span\u003e\u003c\/span\u003e\u003cspan class=\"a-text-bold\"\u003e\u003cspan class=\"a-text-italic\"\u003ewith a paper towel, press firmly \u003c\/span\u003e\u003c\/span\u003e\u003cspan class=\"a-text-bold\"\u003e\u003cspan class=\"a-text-italic\"\u003eagainst the sink, and wait for 1 hour to use.\u003c\/span\u003e\u003c\/span\u003e\u003c\/span\u003e\u003c\/em\u003e\u003c\/p\u003e\n\u003c\/li\u003e\n\u003cli\u003e\n\u003cp\u003e\u003cem\u003e\u003cspan class=\"a-text-bold\"\u003e\u003cspan class=\"a-text-italic\"\u003ePut the filter bag on the rack to complete the installation.\u003c\/span\u003e\u003c\/span\u003e\u003c\/em\u003e\u003c\/p\u003e\n\u003c\/li\u003e\n\u003c\/ol\u003e\n\u003cp\u003e\u003cspan\u003e\u003cstrong\u003eSPECIFICATIONS\u003c\/strong\u003e\u003c\/span\u003e\u003c\/p\u003e\n\u003cul\u003e\n\u003cli\u003e\n\u003cstrong\u003eMaterial:\u003c\/strong\u003e\u003cspan\u003e \u003c\/span\u003eABS\u003c\/li\u003e\n\u003cli\u003e\n\u003cstrong\u003eSize:\u003c\/strong\u003e\u003cspan\u003e \u003c\/span\u003eas the image shows\u003c\/li\u003e\n\u003cli\u003e\n\u003cstrong\u003eColor:\u003c\/strong\u003e\u003cspan\u003e \u003c\/span\u003eGreen\u003c\/li\u003e\n\u003cli\u003e\n\u003cstrong\u003ePackage:\u003c\/strong\u003e 1 Rack+ 500 Filter Bags + Nano Tape.\u003c\/li\u003e\n\u003c\/ul\u003e\n\u003cp\u003e\u003cimg srcset=\"https:\/\/img.staticdj.com\/cfdf07898e02614a6cf9effa79d5b150_720.webp 48w, https:\/\/img.staticdj.com\/cfdf07898e02614a6cf9effa79d5b150_720.webp 180w, https:\/\/img.staticdj.com\/cfdf07898e02614a6cf9effa79d5b150_720.webp 360w, https:\/\/img.staticdj.com\/cfdf07898e02614a6cf9effa79d5b150_720.webp 540w, https:\/\/img.staticdj.com\/cfdf07898e02614a6cf9effa79d5b150_720.webp 720w, https:\/\/img.staticdj.com\/cfdf07898e02614a6cf9effa79d5b150_720.webp 900w, https:\/\/img.staticdj.com\/cfdf07898e02614a6cf9effa79d5b150_720.webp 1024w, https:\/\/img.staticdj.com\/cfdf07898e02614a6cf9effa79d5b150_720.webp 1280w, https:\/\/img.staticdj.com\/cfdf07898e02614a6cf9effa79d5b150_720.webp 1366w, https:\/\/img.staticdj.com\/cfdf07898e02614a6cf9effa79d5b150_720.webp 1440w, https:\/\/img.staticdj.com\/cfdf07898e02614a6cf9effa79d5b150_720.webp 1536w, https:\/\/img.staticdj.com\/cfdf07898e02614a6cf9effa79d5b150_720.webp 1600w, https:\/\/img.staticdj.com\/cfdf07898e02614a6cf9effa79d5b150_720.webp 1920w, https:\/\/img.staticdj.com\/cfdf07898e02614a6cf9effa79d5b150_720.webp 2056w, https:\/\/img.staticdj.com\/cfdf07898e02614a6cf9effa79d5b150_720.webp 2560w, https:\/\/img.staticdj.com\/cfdf07898e02614a6cf9effa79d5b150_720.webp 2732w, https:\/\/img.staticdj.com\/cfdf07898e02614a6cf9effa79d5b150_720.webp 2880w, https:\/\/img.staticdj.com\/cfdf07898e02614a6cf9effa79d5b150_720.webp 3072w, https:\/\/img.staticdj.com\/cfdf07898e02614a6cf9effa79d5b150_720.webp 3200w, https:\/\/img.staticdj.com\/cfdf07898e02614a6cf9effa79d5b150_720.webp 3840w\" sizes=\"432px\" data-srcset=\"https:\/\/img.staticdj.com\/cfdf07898e02614a6cf9effa79d5b150_720.webp 48w, https:\/\/img.staticdj.com\/cfdf07898e02614a6cf9effa79d5b150_720.webp 180w, https:\/\/img.staticdj.com\/cfdf07898e02614a6cf9effa79d5b150_720.webp 360w, https:\/\/img.staticdj.com\/cfdf07898e02614a6cf9effa79d5b150_720.webp 540w, https:\/\/img.staticdj.com\/cfdf07898e02614a6cf9effa79d5b150_720.webp 720w, https:\/\/img.staticdj.com\/cfdf07898e02614a6cf9effa79d5b150_720.webp 900w, https:\/\/img.staticdj.com\/cfdf07898e02614a6cf9effa79d5b150_720.webp 1024w, https:\/\/img.staticdj.com\/cfdf07898e02614a6cf9effa79d5b150_720.webp 1280w, https:\/\/img.staticdj.com\/cfdf07898e02614a6cf9effa79d5b150_720.webp 1366w, https:\/\/img.staticdj.com\/cfdf07898e02614a6cf9effa79d5b150_720.webp 1440w, https:\/\/img.staticdj.com\/cfdf07898e02614a6cf9effa79d5b150_720.webp 1536w, https:\/\/img.staticdj.com\/cfdf07898e02614a6cf9effa79d5b150_720.webp 1600w, https:\/\/img.staticdj.com\/cfdf07898e02614a6cf9effa79d5b150_720.webp 1920w, https:\/\/img.staticdj.com\/cfdf07898e02614a6cf9effa79d5b150_720.webp 2056w, https:\/\/img.staticdj.com\/cfdf07898e02614a6cf9effa79d5b150_720.webp 2560w, https:\/\/img.staticdj.com\/cfdf07898e02614a6cf9effa79d5b150_720.webp 2732w, https:\/\/img.staticdj.com\/cfdf07898e02614a6cf9effa79d5b150_720.webp 2880w, https:\/\/img.staticdj.com\/cfdf07898e02614a6cf9effa79d5b150_720.webp 3072w, https:\/\/img.staticdj.com\/cfdf07898e02614a6cf9effa79d5b150_720.webp 3200w, https:\/\/img.staticdj.com\/cfdf07898e02614a6cf9effa79d5b150_720.webp 3840w\" data-aspect-ratio=\"0.87\" height=\"375\" width=\"432\" alt=\"\" data-sizes=\"auto\" class=\"sep-lazyload lazyautosizes lazyloaded\" style=\"display: block; margin-left: auto; margin-right: auto;\"\u003e\u003c\/p\u003e\n\u003cp\u003e\u003cspan\u003e\u003cstrong\u003eNOTES\u003c\/strong\u003e\u003c\/span\u003e\u003c\/p\u003e\n\u003cp\u003ePlease allow slight measurement deviations due to manual measurement.\u003c\/p\u003e\n\u003cp\u003eDue to the different monitor and light effect, the actual color of the item might be slightly different from the color showed in the pictures.\u003c\/p\u003e\n\u003cul class=\"a-unordered-list a-vertical a-spacing-mini\"\u003e\u003c\/ul\u003e\n\u003cp data-mce-fragment=\"1\"\u003e\u003cspan style=\"color: #ff2a00;\"\u003e\u003cstrong data-mce-fragment=\"1\"\u003e\u003c\/strong\u003e\u003c\/span\u003etures.\u003c\/p\u003e","published_at":"2021-08-12T15:43:21-10:00","created_at":"2021-08-12T15:43:32-10:00","vendor":"urcoolity","type":"","tags":[],"price":1499,"price_min":1499,"price_max":1999,"available":true,"price_varies":true,"compare_at_price":2998,"compare_at_price_min":2998,"compare_at_price_max":3998,"compare_at_price_varies":true,"variants":[{"id":40466180636864,"title":"1* rack + nano tape + 50 filter bags","option1":"1* rack + nano tape + 50 filter bags","option2":null,"option3":null,"sku":"CP16098-X9436","requires_shipping":true,"taxable":false,"featured_image":null,"available":true,"name":"Triangular Sink Net Filter - 1* rack + nano tape + 50 filter bags","public_title":"1* rack + nano tape + 50 filter bags","options":["1* rack + nano tape + 50 filter bags"],"price":1999,"weight":0,"compare_at_price":3998,"inventory_management":null,"barcode":null,"requires_selling_plan":false,"selling_plan_allocations":[]},{"id":40466180669632,"title":"50* replaceable filter bags","option1":"50* replaceable filter bags","option2":null,"option3":null,"sku":"CP16098-X9437","requires_shipping":true,"taxable":false,"featured_image":null,"available":true,"name":"Triangular Sink Net Filter - 50* replaceable filter bags","public_title":"50* replaceable filter bags","options":["50* replaceable filter bags"],"price":1499,"weight":0,"compare_at_price":2998,"inventory_management":null,"barcode":null,"requires_selling_plan":false,"selling_plan_allocations":[]}],"images":["\/\/cdn.shopify.com\/s\/files\/1\/0573\/9020\/3072\/products\/1_58fb9434-fffb-4cd1-a67c-5f2f8c38ba89.jpg?v=1628819012","\/\/cdn.shopify.com\/s\/files\/1\/0573\/9020\/3072\/products\/2_47331160-8a40-43d3-a963-deae02342a7c.jpg?v=1628819012","\/\/cdn.shopify.com\/s\/files\/1\/0573\/9020\/3072\/products\/3_0fea1666-e4fc-4678-94e3-165d89e0d835.jpg?v=1628819012","\/\/cdn.shopify.com\/s\/files\/1\/0573\/9020\/3072\/products\/4_aead11e9-199c-40e5-95ad-02908ed322b8.jpg?v=1628819012","\/\/cdn.shopify.com\/s\/files\/1\/0573\/9020\/3072\/products\/5_5a362a31-c764-4ed0-a5bc-09883ef694f8.jpg?v=1628819012","\/\/cdn.shopify.com\/s\/files\/1\/0573\/9020\/3072\/products\/6_1483c375-04ae-4033-8b03-f0a4a124e5b2.jpg?v=1628819012","\/\/cdn.shopify.com\/s\/files\/1\/0573\/9020\/3072\/products\/7_7a357b27-8804-4045-899d-d055ed926751.jpg?v=1628819012","\/\/cdn.shopify.com\/s\/files\/1\/0573\/9020\/3072\/products\/8_8a215bd9-40e3-4d40-9563-5cc05fa89201.jpg?v=1628819012","\/\/cdn.shopify.com\/s\/files\/1\/0573\/9020\/3072\/products\/9_bfb9f2ae-1ec8-413d-a0da-55fbfb265f11.jpg?v=1628819012","\/\/cdn.shopify.com\/s\/files\/1\/0573\/9020\/3072\/products\/10_a98b62bf-c8b8-4137-aaea-d554724d9796.jpg?v=1628819012","\/\/cdn.shopify.com\/s\/files\/1\/0573\/9020\/3072\/products\/11_f325aa9d-c08f-4226-a575-ef653817021d.jpg?v=1628819012","\/\/cdn.shopify.com\/s\/files\/1\/0573\/9020\/3072\/products\/12_4a0c6046-b3c8-43e3-a2c0-490561a47dbc.jpg?v=1628819012"],"featured_image":"\/\/cdn.shopify.com\/s\/files\/1\/0573\/9020\/3072\/products\/1_58fb9434-fffb-4cd1-a67c-5f2f8c38ba89.jpg?v=1628819012","options":["Spec"],"media":[{"alt":null,"id":22554496893120,"position":1,"preview_image":{"aspect_ratio":1.0,"height":800,"width":800,"src":"https:\/\/cdn.shopify.com\/s\/files\/1\/0573\/9020\/3072\/products\/1_58fb9434-fffb-4cd1-a67c-5f2f8c38ba89.jpg?v=1628819012"},"aspect_ratio":1.0,"height":800,"media_type":"image","src":"https:\/\/cdn.shopify.com\/s\/files\/1\/0573\/9020\/3072\/products\/1_58fb9434-fffb-4cd1-a67c-5f2f8c38ba89.jpg?v=1628819012","width":800},{"alt":null,"id":22554496925888,"position":2,"preview_image":{"aspect_ratio":1.0,"height":800,"width":800,"src":"https:\/\/cdn.shopify.com\/s\/files\/1\/0573\/9020\/3072\/products\/2_47331160-8a40-43d3-a963-deae02342a7c.jpg?v=1628819012"},"aspect_ratio":1.0,"height":800,"media_type":"image","src":"https:\/\/cdn.shopify.com\/s\/files\/1\/0573\/9020\/3072\/products\/2_47331160-8a40-43d3-a963-deae02342a7c.jpg?v=1628819012","width":800},{"alt":null,"id":22554496958656,"position":3,"preview_image":{"aspect_ratio":1.0,"height":800,"width":800,"src":"https:\/\/cdn.shopify.com\/s\/files\/1\/0573\/9020\/3072\/products\/3_0fea1666-e4fc-4678-94e3-165d89e0d835.jpg?v=1628819012"},"aspect_ratio":1.0,"height":800,"media_type":"image","src":"https:\/\/cdn.shopify.com\/s\/files\/1\/0573\/9020\/3072\/products\/3_0fea1666-e4fc-4678-94e3-165d89e0d835.jpg?v=1628819012","width":800},{"alt":null,"id":22554496991424,"position":4,"preview_image":{"aspect_ratio":1.0,"height":800,"width":800,"src":"https:\/\/cdn.shopify.com\/s\/files\/1\/0573\/9020\/3072\/products\/4_aead11e9-199c-40e5-95ad-02908ed322b8.jpg?v=1628819012"},"aspect_ratio":1.0,"height":800,"media_type":"image","src":"https:\/\/cdn.shopify.com\/s\/files\/1\/0573\/9020\/3072\/products\/4_aead11e9-199c-40e5-95ad-02908ed322b8.jpg?v=1628819012","width":800},{"alt":null,"id":22554497024192,"position":5,"preview_image":{"aspect_ratio":1.0,"height":800,"width":800,"src":"https:\/\/cdn.shopify.com\/s\/files\/1\/0573\/9020\/3072\/products\/5_5a362a31-c764-4ed0-a5bc-09883ef694f8.jpg?v=1628819012"},"aspect_ratio":1.0,"height":800,"media_type":"image","src":"https:\/\/cdn.shopify.com\/s\/files\/1\/0573\/9020\/3072\/products\/5_5a362a31-c764-4ed0-a5bc-09883ef694f8.jpg?v=1628819012","width":800},{"alt":null,"id":22554497056960,"position":6,"preview_image":{"aspect_ratio":1.0,"height":800,"width":800,"src":"https:\/\/cdn.shopify.com\/s\/files\/1\/0573\/9020\/3072\/products\/6_1483c375-04ae-4033-8b03-f0a4a124e5b2.jpg?v=1628819012"},"aspect_ratio":1.0,"height":800,"media_type":"image","src":"https:\/\/cdn.shopify.com\/s\/files\/1\/0573\/9020\/3072\/products\/6_1483c375-04ae-4033-8b03-f0a4a124e5b2.jpg?v=1628819012","width":800},{"alt":null,"id":22554497089728,"position":7,"preview_image":{"aspect_ratio":1.0,"height":800,"width":800,"src":"https:\/\/cdn.shopify.com\/s\/files\/1\/0573\/9020\/3072\/products\/7_7a357b27-8804-4045-899d-d055ed926751.jpg?v=1628819012"},"aspect_ratio":1.0,"height":800,"media_type":"image","src":"https:\/\/cdn.shopify.com\/s\/files\/1\/0573\/9020\/3072\/products\/7_7a357b27-8804-4045-899d-d055ed926751.jpg?v=1628819012","width":800},{"alt":null,"id":22554497122496,"position":8,"preview_image":{"aspect_ratio":1.0,"height":800,"width":800,"src":"https:\/\/cdn.shopify.com\/s\/files\/1\/0573\/9020\/3072\/products\/8_8a215bd9-40e3-4d40-9563-5cc05fa89201.jpg?v=1628819012"},"aspect_ratio":1.0,"height":800,"media_type":"image","src":"https:\/\/cdn.shopify.com\/s\/files\/1\/0573\/9020\/3072\/products\/8_8a215bd9-40e3-4d40-9563-5cc05fa89201.jpg?v=1628819012","width":800},{"alt":null,"id":22554497155264,"position":9,"preview_image":{"aspect_ratio":1.0,"height":800,"width":800,"src":"https:\/\/cdn.shopify.com\/s\/files\/1\/0573\/9020\/3072\/products\/9_bfb9f2ae-1ec8-413d-a0da-55fbfb265f11.jpg?v=1628819012"},"aspect_ratio":1.0,"height":800,"media_type":"image","src":"https:\/\/cdn.shopify.com\/s\/files\/1\/0573\/9020\/3072\/products\/9_bfb9f2ae-1ec8-413d-a0da-55fbfb265f11.jpg?v=1628819012","width":800},{"alt":null,"id":22554497188032,"position":10,"preview_image":{"aspect_ratio":1.0,"height":800,"width":800,"src":"https:\/\/cdn.shopify.com\/s\/files\/1\/0573\/9020\/3072\/products\/10_a98b62bf-c8b8-4137-aaea-d554724d9796.jpg?v=1628819012"},"aspect_ratio":1.0,"height":800,"media_type":"image","src":"https:\/\/cdn.shopify.com\/s\/files\/1\/0573\/9020\/3072\/products\/10_a98b62bf-c8b8-4137-aaea-d554724d9796.jpg?v=1628819012","width":800},{"alt":null,"id":22554497220800,"position":11,"preview_image":{"aspect_ratio":1.0,"height":800,"width":800,"src":"https:\/\/cdn.shopify.com\/s\/files\/1\/0573\/9020\/3072\/products\/11_f325aa9d-c08f-4226-a575-ef653817021d.jpg?v=1628819012"},"aspect_ratio":1.0,"height":800,"media_type":"image","src":"https:\/\/cdn.shopify.com\/s\/files\/1\/0573\/9020\/3072\/products\/11_f325aa9d-c08f-4226-a575-ef653817021d.jpg?v=1628819012","width":800},{"alt":null,"id":22554497253568,"position":12,"preview_image":{"aspect_ratio":1.0,"height":800,"width":800,"src":"https:\/\/cdn.shopify.com\/s\/files\/1\/0573\/9020\/3072\/products\/12_4a0c6046-b3c8-43e3-a2c0-490561a47dbc.jpg?v=1628819012"},"aspect_ratio":1.0,"height":800,"media_type":"image","src":"https:\/\/cdn.shopify.com\/s\/files\/1\/0573\/9020\/3072\/products\/12_4a0c6046-b3c8-43e3-a2c0-490561a47dbc.jpg?v=1628819012","width":800}],"requires_selling_plan":false,"selling_plan_groups":[],"content":"\u003cul\u003e\n\u003cli\u003e\u003cspan\u003e🔥🔥\u003cstrong\u003e99.8% of customers are buying 2 pcs or more.\u003c\/strong\u003e\u003c\/span\u003e\u003c\/li\u003e\n\u003c\/ul\u003e\n\u003cp data-mce-fragment=\"1\"\u003e\u003cspan\u003e\u003cstrong\u003eA Must Have Gadget For Kitchen\u003c\/strong\u003e\u003cimg src=\"https:\/\/img.staticdj.com\/4ffdecd6e665809832cc40e83eacbac4.gif\" sizes=\"300px\" width=\"300\" alt=\"\" data-src=\"https:\/\/img.staticdj.com\/4ffdecd6e665809832cc40e83eacbac4.gif\" data-sizes=\"auto\" class=\"sep-lazyload lazyautosizes lazyloaded\" style=\"display: block; margin-left: auto; margin-right: auto;\"\u003e\u003c\/span\u003e\u003cspan\u003e\u003c\/span\u003e\u003c\/p\u003e\n\u003cul\u003e\n\u003cli\u003e\n\u003cspan\u003e\u003cstrong\u003eSmart\u003c\/strong\u003e\u003c\/span\u003e\u003cspan\u003e\u003cstrong\u003e Design:\u003c\/strong\u003e The triangle shape design which fully makes use of the space of the sink corner and won't take up additional space inside the sink.\u003c\/span\u003e\n\u003c\/li\u003e\n\u003cli\u003e\u003cspan\u003e\u003cstrong\u003eElastic and Flexible:\u003c\/strong\u003e Drain groove design, can let the water run off and make sponge and scrubber dry. These mesh bags are elastic and flexible, easy to connect to the 7-point holder and maintain stability.\u003c\/span\u003e\u003c\/li\u003e\n\u003cli\u003e\u003cspan\u003e\u003cstrong\u003eExcellent Function: \u003c\/strong\u003eThe fine mesh captures all small food particles that would normally slide through the filter. Effectively prevent hair, paper scraps, food scraps, fabric, and any other garbage into the drain.\u003c\/span\u003e\u003c\/li\u003e\n\u003c\/ul\u003e\n\u003cdiv\u003e\u003cspan\u003e\u003cstrong\u003eEconomical \u0026amp; Practical: \u003c\/strong\u003eFilter out the kitchen\/restaurant leftovers with the purpose of protecting the kitchen drainage, not to block the drainpipe, and it helps to save space and keep the kitchen clean.\u003cimg srcset=\"https:\/\/img.staticdj.com\/211c020870c3bd99dc68f07a3c308ec1_720.jpeg 48w, https:\/\/img.staticdj.com\/211c020870c3bd99dc68f07a3c308ec1_720.jpeg 180w, https:\/\/img.staticdj.com\/211c020870c3bd99dc68f07a3c308ec1_720.jpeg 360w, https:\/\/img.staticdj.com\/211c020870c3bd99dc68f07a3c308ec1_720.jpeg 540w, https:\/\/img.staticdj.com\/211c020870c3bd99dc68f07a3c308ec1_720.jpeg 720w, https:\/\/img.staticdj.com\/211c020870c3bd99dc68f07a3c308ec1_720.jpeg 900w, https:\/\/img.staticdj.com\/211c020870c3bd99dc68f07a3c308ec1_720.jpeg 1024w, https:\/\/img.staticdj.com\/211c020870c3bd99dc68f07a3c308ec1_720.jpeg 1280w, https:\/\/img.staticdj.com\/211c020870c3bd99dc68f07a3c308ec1_720.jpeg 1366w, https:\/\/img.staticdj.com\/211c020870c3bd99dc68f07a3c308ec1_720.jpeg 1440w, https:\/\/img.staticdj.com\/211c020870c3bd99dc68f07a3c308ec1_720.jpeg 1536w, https:\/\/img.staticdj.com\/211c020870c3bd99dc68f07a3c308ec1_720.jpeg 1600w, https:\/\/img.staticdj.com\/211c020870c3bd99dc68f07a3c308ec1_720.jpeg 1920w, https:\/\/img.staticdj.com\/211c020870c3bd99dc68f07a3c308ec1_720.jpeg 2056w, https:\/\/img.staticdj.com\/211c020870c3bd99dc68f07a3c308ec1_720.jpeg 2560w, https:\/\/img.staticdj.com\/211c020870c3bd99dc68f07a3c308ec1_720.jpeg 2732w, https:\/\/img.staticdj.com\/211c020870c3bd99dc68f07a3c308ec1_720.jpeg 2880w, https:\/\/img.staticdj.com\/211c020870c3bd99dc68f07a3c308ec1_720.jpeg 3072w, https:\/\/img.staticdj.com\/211c020870c3bd99dc68f07a3c308ec1_720.jpeg 3200w, https:\/\/img.staticdj.com\/211c020870c3bd99dc68f07a3c308ec1_720.jpeg 3840w\" sizes=\"400px\" data-srcset=\"https:\/\/img.staticdj.com\/211c020870c3bd99dc68f07a3c308ec1_720.jpeg 48w, https:\/\/img.staticdj.com\/211c020870c3bd99dc68f07a3c308ec1_720.jpeg 180w, https:\/\/img.staticdj.com\/211c020870c3bd99dc68f07a3c308ec1_720.jpeg 360w, https:\/\/img.staticdj.com\/211c020870c3bd99dc68f07a3c308ec1_720.jpeg 540w, https:\/\/img.staticdj.com\/211c020870c3bd99dc68f07a3c308ec1_720.jpeg 720w, https:\/\/img.staticdj.com\/211c020870c3bd99dc68f07a3c308ec1_720.jpeg 900w, https:\/\/img.staticdj.com\/211c020870c3bd99dc68f07a3c308ec1_720.jpeg 1024w, https:\/\/img.staticdj.com\/211c020870c3bd99dc68f07a3c308ec1_720.jpeg 1280w, https:\/\/img.staticdj.com\/211c020870c3bd99dc68f07a3c308ec1_720.jpeg 1366w, https:\/\/img.staticdj.com\/211c020870c3bd99dc68f07a3c308ec1_720.jpeg 1440w, https:\/\/img.staticdj.com\/211c020870c3bd99dc68f07a3c308ec1_720.jpeg 1536w, https:\/\/img.staticdj.com\/211c020870c3bd99dc68f07a3c308ec1_720.jpeg 1600w, https:\/\/img.staticdj.com\/211c020870c3bd99dc68f07a3c308ec1_720.jpeg 1920w, https:\/\/img.staticdj.com\/211c020870c3bd99dc68f07a3c308ec1_720.jpeg 2056w, https:\/\/img.staticdj.com\/211c020870c3bd99dc68f07a3c308ec1_720.jpeg 2560w, https:\/\/img.staticdj.com\/211c020870c3bd99dc68f07a3c308ec1_720.jpeg 2732w, https:\/\/img.staticdj.com\/211c020870c3bd99dc68f07a3c308ec1_720.jpeg 2880w, https:\/\/img.staticdj.com\/211c020870c3bd99dc68f07a3c308ec1_720.jpeg 3072w, https:\/\/img.staticdj.com\/211c020870c3bd99dc68f07a3c308ec1_720.jpeg 3200w, https:\/\/img.staticdj.com\/211c020870c3bd99dc68f07a3c308ec1_720.jpeg 3840w\" data-aspect-ratio=\"1.00\" height=\"400\" width=\"400\" alt=\"\" data-sizes=\"auto\" class=\"sep-lazyload lazyautosizes lazyloaded\" style=\"display: block; margin-left: auto; margin-right: auto;\"\u003e\u003cimg srcset=\"https:\/\/img.staticdj.com\/dcd7725e5576bf49927718b419cc9547_720.jpeg 48w, https:\/\/img.staticdj.com\/dcd7725e5576bf49927718b419cc9547_720.jpeg 180w, https:\/\/img.staticdj.com\/dcd7725e5576bf49927718b419cc9547_720.jpeg 360w, https:\/\/img.staticdj.com\/dcd7725e5576bf49927718b419cc9547_720.jpeg 540w, https:\/\/img.staticdj.com\/dcd7725e5576bf49927718b419cc9547_720.jpeg 720w, https:\/\/img.staticdj.com\/dcd7725e5576bf49927718b419cc9547_720.jpeg 900w, https:\/\/img.staticdj.com\/dcd7725e5576bf49927718b419cc9547_720.jpeg 1024w, https:\/\/img.staticdj.com\/dcd7725e5576bf49927718b419cc9547_720.jpeg 1280w, https:\/\/img.staticdj.com\/dcd7725e5576bf49927718b419cc9547_720.jpeg 1366w, https:\/\/img.staticdj.com\/dcd7725e5576bf49927718b419cc9547_720.jpeg 1440w, https:\/\/img.staticdj.com\/dcd7725e5576bf49927718b419cc9547_720.jpeg 1536w, https:\/\/img.staticdj.com\/dcd7725e5576bf49927718b419cc9547_720.jpeg 1600w, https:\/\/img.staticdj.com\/dcd7725e5576bf49927718b419cc9547_720.jpeg 1920w, https:\/\/img.staticdj.com\/dcd7725e5576bf49927718b419cc9547_720.jpeg 2056w, https:\/\/img.staticdj.com\/dcd7725e5576bf49927718b419cc9547_720.jpeg 2560w, https:\/\/img.staticdj.com\/dcd7725e5576bf49927718b419cc9547_720.jpeg 2732w, https:\/\/img.staticdj.com\/dcd7725e5576bf49927718b419cc9547_720.jpeg 2880w, https:\/\/img.staticdj.com\/dcd7725e5576bf49927718b419cc9547_720.jpeg 3072w, https:\/\/img.staticdj.com\/dcd7725e5576bf49927718b419cc9547_720.jpeg 3200w, https:\/\/img.staticdj.com\/dcd7725e5576bf49927718b419cc9547_720.jpeg 3840w\" sizes=\"400px\" data-srcset=\"https:\/\/img.staticdj.com\/dcd7725e5576bf49927718b419cc9547_720.jpeg 48w, https:\/\/img.staticdj.com\/dcd7725e5576bf49927718b419cc9547_720.jpeg 180w, https:\/\/img.staticdj.com\/dcd7725e5576bf49927718b419cc9547_720.jpeg 360w, https:\/\/img.staticdj.com\/dcd7725e5576bf49927718b419cc9547_720.jpeg 540w, https:\/\/img.staticdj.com\/dcd7725e5576bf49927718b419cc9547_720.jpeg 720w, https:\/\/img.staticdj.com\/dcd7725e5576bf49927718b419cc9547_720.jpeg 900w, https:\/\/img.staticdj.com\/dcd7725e5576bf49927718b419cc9547_720.jpeg 1024w, https:\/\/img.staticdj.com\/dcd7725e5576bf49927718b419cc9547_720.jpeg 1280w, https:\/\/img.staticdj.com\/dcd7725e5576bf49927718b419cc9547_720.jpeg 1366w, https:\/\/img.staticdj.com\/dcd7725e5576bf49927718b419cc9547_720.jpeg 1440w, https:\/\/img.staticdj.com\/dcd7725e5576bf49927718b419cc9547_720.jpeg 1536w, https:\/\/img.staticdj.com\/dcd7725e5576bf49927718b419cc9547_720.jpeg 1600w, https:\/\/img.staticdj.com\/dcd7725e5576bf49927718b419cc9547_720.jpeg 1920w, https:\/\/img.staticdj.com\/dcd7725e5576bf49927718b419cc9547_720.jpeg 2056w, https:\/\/img.staticdj.com\/dcd7725e5576bf49927718b419cc9547_720.jpeg 2560w, https:\/\/img.staticdj.com\/dcd7725e5576bf49927718b419cc9547_720.jpeg 2732w, https:\/\/img.staticdj.com\/dcd7725e5576bf49927718b419cc9547_720.jpeg 2880w, https:\/\/img.staticdj.com\/dcd7725e5576bf49927718b419cc9547_720.jpeg 3072w, https:\/\/img.staticdj.com\/dcd7725e5576bf49927718b419cc9547_720.jpeg 3200w, https:\/\/img.staticdj.com\/dcd7725e5576bf49927718b419cc9547_720.jpeg 3840w\" data-aspect-ratio=\"1.00\" height=\"400\" width=\"400\" alt=\"\" data-sizes=\"auto\" class=\"sep-lazyload lazyautosizes lazyloaded\" style=\"display: block; margin-left: auto; margin-right: auto;\"\u003e\u003c\/span\u003e\u003c\/div\u003e\n\u003cp\u003e\u003cspan\u003e\u003cstrong\u003eHOW TO INSTALL\u003c\/strong\u003e\u003c\/span\u003e\u003c\/p\u003e\n\u003col\u003e\n\u003cli\u003e\n\u003cp\u003e\u003cem\u003e\u003cspan\u003eUse scissors to cut off part of the nano glue.\u003c\/span\u003e\u003c\/em\u003e\u003c\/p\u003e\n\u003c\/li\u003e\n\u003cli\u003e\n\u003cp\u003e\u003cem\u003e\u003cspan\u003ePaste the nano tape on both sides of the back of the drain rack.\u003c\/span\u003e\u003c\/em\u003e\u003c\/p\u003e\n\u003c\/li\u003e\n\u003cli\u003e\n\u003cp class=\"a-size-small\"\u003e\u003cem\u003e\u003cspan\u003e\u003cspan class=\"a-text-bold\"\u003e\u003cspan class=\"a-text-italic\"\u003eWipe the edge of the sink dry \u003c\/span\u003e\u003c\/span\u003e\u003cspan class=\"a-text-bold\"\u003e\u003cspan class=\"a-text-italic\"\u003ewith a paper towel, press firmly \u003c\/span\u003e\u003c\/span\u003e\u003cspan class=\"a-text-bold\"\u003e\u003cspan class=\"a-text-italic\"\u003eagainst the sink, and wait for 1 hour to use.\u003c\/span\u003e\u003c\/span\u003e\u003c\/span\u003e\u003c\/em\u003e\u003c\/p\u003e\n\u003c\/li\u003e\n\u003cli\u003e\n\u003cp\u003e\u003cem\u003e\u003cspan class=\"a-text-bold\"\u003e\u003cspan class=\"a-text-italic\"\u003ePut the filter bag on the rack to complete the installation.\u003c\/span\u003e\u003c\/span\u003e\u003c\/em\u003e\u003c\/p\u003e\n\u003c\/li\u003e\n\u003c\/ol\u003e\n\u003cp\u003e\u003cspan\u003e\u003cstrong\u003eSPECIFICATIONS\u003c\/strong\u003e\u003c\/span\u003e\u003c\/p\u003e\n\u003cul\u003e\n\u003cli\u003e\n\u003cstrong\u003eMaterial:\u003c\/strong\u003e\u003cspan\u003e \u003c\/span\u003eABS\u003c\/li\u003e\n\u003cli\u003e\n\u003cstrong\u003eSize:\u003c\/strong\u003e\u003cspan\u003e \u003c\/span\u003eas the image shows\u003c\/li\u003e\n\u003cli\u003e\n\u003cstrong\u003eColor:\u003c\/strong\u003e\u003cspan\u003e \u003c\/span\u003eGreen\u003c\/li\u003e\n\u003cli\u003e\n\u003cstrong\u003ePackage:\u003c\/strong\u003e 1 Rack+ 500 Filter Bags + Nano Tape.\u003c\/li\u003e\n\u003c\/ul\u003e\n\u003cp\u003e\u003cimg srcset=\"https:\/\/img.staticdj.com\/cfdf07898e02614a6cf9effa79d5b150_720.webp 48w, https:\/\/img.staticdj.com\/cfdf07898e02614a6cf9effa79d5b150_720.webp 180w, https:\/\/img.staticdj.com\/cfdf07898e02614a6cf9effa79d5b150_720.webp 360w, https:\/\/img.staticdj.com\/cfdf07898e02614a6cf9effa79d5b150_720.webp 540w, https:\/\/img.staticdj.com\/cfdf07898e02614a6cf9effa79d5b150_720.webp 720w, https:\/\/img.staticdj.com\/cfdf07898e02614a6cf9effa79d5b150_720.webp 900w, https:\/\/img.staticdj.com\/cfdf07898e02614a6cf9effa79d5b150_720.webp 1024w, https:\/\/img.staticdj.com\/cfdf07898e02614a6cf9effa79d5b150_720.webp 1280w, https:\/\/img.staticdj.com\/cfdf07898e02614a6cf9effa79d5b150_720.webp 1366w, https:\/\/img.staticdj.com\/cfdf07898e02614a6cf9effa79d5b150_720.webp 1440w, https:\/\/img.staticdj.com\/cfdf07898e02614a6cf9effa79d5b150_720.webp 1536w, https:\/\/img.staticdj.com\/cfdf07898e02614a6cf9effa79d5b150_720.webp 1600w, https:\/\/img.staticdj.com\/cfdf07898e02614a6cf9effa79d5b150_720.webp 1920w, https:\/\/img.staticdj.com\/cfdf07898e02614a6cf9effa79d5b150_720.webp 2056w, https:\/\/img.staticdj.com\/cfdf07898e02614a6cf9effa79d5b150_720.webp 2560w, https:\/\/img.staticdj.com\/cfdf07898e02614a6cf9effa79d5b150_720.webp 2732w, https:\/\/img.staticdj.com\/cfdf07898e02614a6cf9effa79d5b150_720.webp 2880w, https:\/\/img.staticdj.com\/cfdf07898e02614a6cf9effa79d5b150_720.webp 3072w, https:\/\/img.staticdj.com\/cfdf07898e02614a6cf9effa79d5b150_720.webp 3200w, https:\/\/img.staticdj.com\/cfdf07898e02614a6cf9effa79d5b150_720.webp 3840w\" sizes=\"432px\" data-srcset=\"https:\/\/img.staticdj.com\/cfdf07898e02614a6cf9effa79d5b150_720.webp 48w, https:\/\/img.staticdj.com\/cfdf07898e02614a6cf9effa79d5b150_720.webp 180w, https:\/\/img.staticdj.com\/cfdf07898e02614a6cf9effa79d5b150_720.webp 360w, https:\/\/img.staticdj.com\/cfdf07898e02614a6cf9effa79d5b150_720.webp 540w, https:\/\/img.staticdj.com\/cfdf07898e02614a6cf9effa79d5b150_720.webp 720w, https:\/\/img.staticdj.com\/cfdf07898e02614a6cf9effa79d5b150_720.webp 900w, https:\/\/img.staticdj.com\/cfdf07898e02614a6cf9effa79d5b150_720.webp 1024w, https:\/\/img.staticdj.com\/cfdf07898e02614a6cf9effa79d5b150_720.webp 1280w, https:\/\/img.staticdj.com\/cfdf07898e02614a6cf9effa79d5b150_720.webp 1366w, https:\/\/img.staticdj.com\/cfdf07898e02614a6cf9effa79d5b150_720.webp 1440w, https:\/\/img.staticdj.com\/cfdf07898e02614a6cf9effa79d5b150_720.webp 1536w, https:\/\/img.staticdj.com\/cfdf07898e02614a6cf9effa79d5b150_720.webp 1600w, https:\/\/img.staticdj.com\/cfdf07898e02614a6cf9effa79d5b150_720.webp 1920w, https:\/\/img.staticdj.com\/cfdf07898e02614a6cf9effa79d5b150_720.webp 2056w, https:\/\/img.staticdj.com\/cfdf07898e02614a6cf9effa79d5b150_720.webp 2560w, https:\/\/img.staticdj.com\/cfdf07898e02614a6cf9effa79d5b150_720.webp 2732w, https:\/\/img.staticdj.com\/cfdf07898e02614a6cf9effa79d5b150_720.webp 2880w, https:\/\/img.staticdj.com\/cfdf07898e02614a6cf9effa79d5b150_720.webp 3072w, https:\/\/img.staticdj.com\/cfdf07898e02614a6cf9effa79d5b150_720.webp 3200w, https:\/\/img.staticdj.com\/cfdf07898e02614a6cf9effa79d5b150_720.webp 3840w\" data-aspect-ratio=\"0.87\" height=\"375\" width=\"432\" alt=\"\" data-sizes=\"auto\" class=\"sep-lazyload lazyautosizes lazyloaded\" style=\"display: block; margin-left: auto; margin-right: auto;\"\u003e\u003c\/p\u003e\n\u003cp\u003e\u003cspan\u003e\u003cstrong\u003eNOTES\u003c\/strong\u003e\u003c\/span\u003e\u003c\/p\u003e\n\u003cp\u003ePlease allow slight measurement deviations due to manual measurement.\u003c\/p\u003e\n\u003cp\u003eDue to the different monitor and light effect, the actual color of the item might be slightly different from the color showed in the pictures.\u003c\/p\u003e\n\u003cul class=\"a-unordered-list a-vertical a-spacing-mini\"\u003e\u003c\/ul\u003e\n\u003cp data-mce-fragment=\"1\"\u003e\u003cspan style=\"color: #ff2a00;\"\u003e\u003cstrong data-mce-fragment=\"1\"\u003e\u003c\/strong\u003e\u003c\/span\u003etures.\u003c\/p\u003e"}
Triangular Sink Net Filter
Adding product to your cart
🔥🔥99.8% of customers are buying 2 pcs or more.
A Must Have Gadget For Kitchen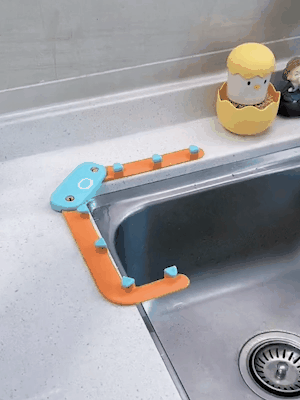 Smart Design: The triangle shape design which fully makes use of the space of the sink corner and won't take up additional space inside the sink.
Elastic and Flexible: Drain groove design, can let the water run off and make sponge and scrubber dry. These mesh bags are elastic and flexible, easy to connect to the 7-point holder and maintain stability.
Excellent Function: The fine mesh captures all small food particles that would normally slide through the filter. Effectively prevent hair, paper scraps, food scraps, fabric, and any other garbage into the drain.
Economical & Practical: Filter out the kitchen/restaurant leftovers with the purpose of protecting the kitchen drainage, not to block the drainpipe, and it helps to save space and keep the kitchen clean.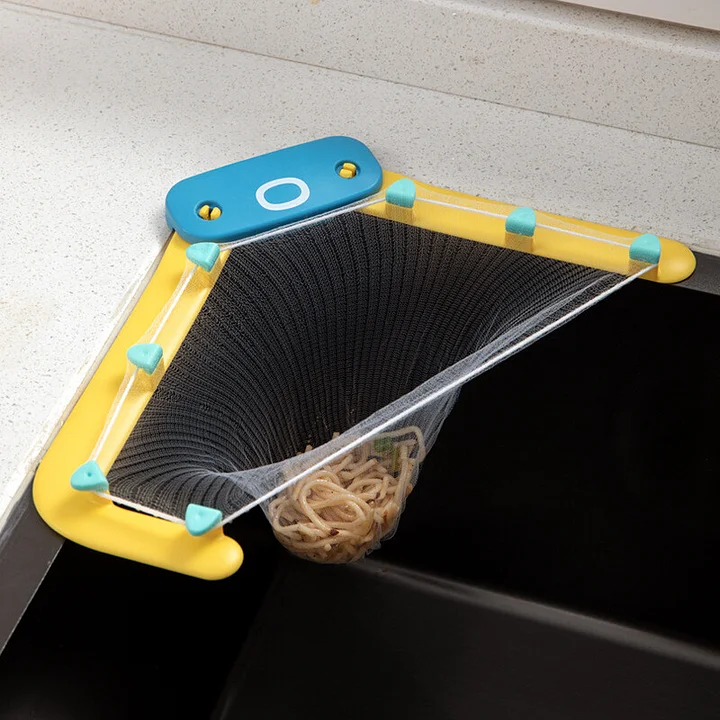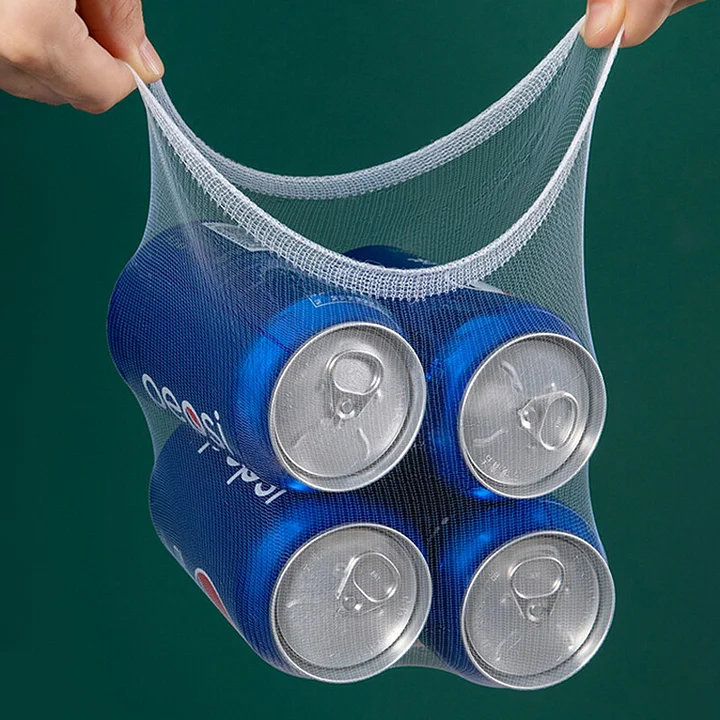 HOW TO INSTALL
Use scissors to cut off part of the nano glue.

Paste the nano tape on both sides of the back of the drain rack.

Wipe the edge of the sink dry with a paper towel, press firmly against the sink, and wait for 1 hour to use.

Put the filter bag on the rack to complete the installation.
SPECIFICATIONS
Material:

 

ABS
Size:

 

as the image shows
Color:

 

Green
Package: 1 Rack+ 500 Filter Bags + Nano Tape.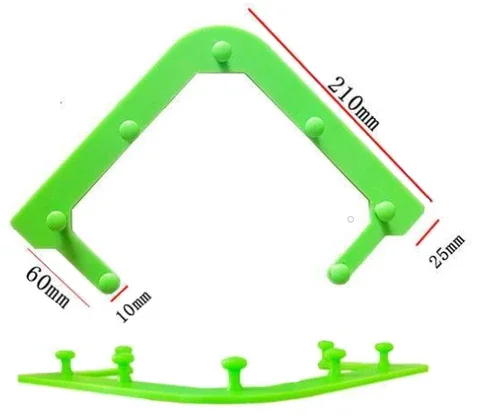 NOTES
Please allow slight measurement deviations due to manual measurement.
Due to the different monitor and light effect, the actual color of the item might be slightly different from the color showed in the pictures.
tures.